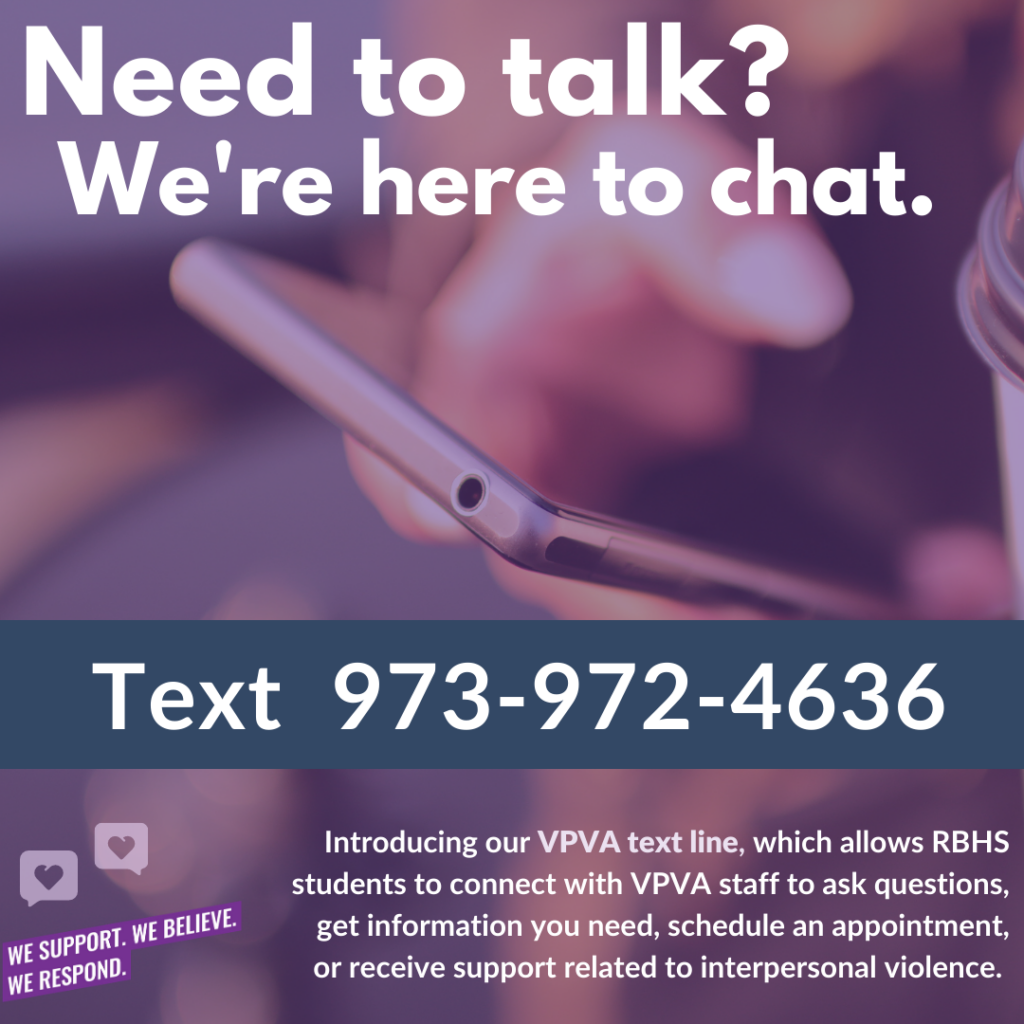 We recognize that each person likes to communicate in their own way. And that lately, finding time or privacy to reach out for help may be challenging. Our office has launched the VPVA Text Line to make it a little easier. Whether you need support, have a question, want to help a friend/peer, or are seeking information related to harassment or violence, VPVA staff can assist with a call or text message to 973-972-4636. It's free, it's confidential, and it can be anonymous. Phone not an option right now? Email us at vpva@rbhs.rutgers.edu.
If you or someone you know is experiencing violence during COVID, learn more about Staying Safe.
Need additional support on your own time? Visit our self-care workbook Care For You. 
What services does VPVA provide?
The RBHS Office for Violence Prevention & Victim Assistance (VPVA) is a free and confidential resource that provides services regarding sexual violence, dating violence, stalking, and harassment for the RBHS community. VPVA offers counseling, advocacy, education, and programming to address and prevent interpersonal violence that impacts the RBHS campus. This includes:
Emotional support services via phone and in-person counseling are available for RBHS students.
Advocacy, including assistance with navigating health and reporting systems, is available for RBHS students who have experienced violence.
Information regarding interpersonal violence, options available, and how to support survivors is offered to RBHS students, faculty, and staff.
Additional referrals and resources can be provided to any RBHS community members.
Intentional education and prevention programming are scheduled throughout the RBHS campus. Requested trainings are available for interested groups within the RBHS community.
Awareness programming is offered throughout the year to engage students, faculty, and staff.
VPVA is dedicated to serving students at each of the RBHS sites. VPVA has offices located in the Bergen Building in Newark and the RWJMS building in Piscataway, and also provides virtual support and programming.