Domestic Violence Awareness Month 2023
October is nationally recognized as Domestic Violence Awareness Month, a time when we ask everyone within the RBHS community to get involved by honoring survivors, speaking up against violence and harassing behaviors, and promoting healthy relationships. Turn The Campus Purple is the university-wide initiative to bring attention to Domestic Violence Awareness Month, encouraging members of the community to wear purple or use purple disposables within their work sites during the month to support a violence-free environment. Visit this page for updates and follow our Instagram @RBHS_VPVA to check out all of our community participation!
#RBHSDVAM
Turn The Campus Purple
Throughout October
Purple is nationally recognized as the awareness color for Domestic Violence Awareness Month. Turn the Campus Purple is a university-wide campaign encouraging community members to show off their purple and raise awareness of all forms of domestic violence. Participate by turning your social presence purple, sharing your favorite purple items, and adding purple to your email signatures or Zoom backgrounds!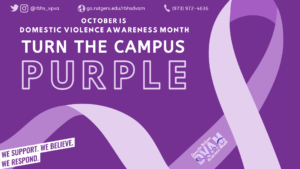 Beyond the Buzzwords
This October, we're going Beyond the Buzzwords. By exploring words that have origins in domestic violence and have now entered into everyday language, we can get a sense of the power of words and why what we say matters to survivors and the community. Look out for our Beyond the Buzzwords displays around campus and share your thoughts on terms that are trending. Then join us HERE and on social media for a deeper discussion. Inspired by the National Network to End Domestic Violence.
Tie-Dye Your Tote
October 10 (Newark) & 17 (Piscataway)
Tie-Dye Your Tote is a way for the RBHS community to raise awareness about domestic violence by joining us at one of our Tie-Dye events and creating your own purple tie-dye tote bag to carry around campus this month! 
Health Cares About DV Day
Wednesday, October 11
Health Cares About DV Day is a nationally celebrated initiative that asks those in health sciences to show support for domestic violence survivors. On Wednesday, October 11, we ask you to Put On Your Purple! Wear purple accessories, put on purple scrubs, grab one of our purple ribbons, or show off your purple VPVA shirts to honor survivors. Share your submissions with us here.
Domestic Violence 101 Panel
Late October
In collaboration with the RWJMS student org HIPHOP, VPVA will join a panel discussion on domestic violence. Open to all RBHS community members, learn from key campus and community members to engage in conversations around the impact of domestic violence, what working with survivors looks like, and how we can do something to change it. 
Demystifying DV Tabling
Week of October 23rd
Participate in our Demystfiyfing DV tabling events! Test your knowledge surrounding the prevalence of domestic violence and learn more about ways you can show support during DVAM. Check us out on social media @rbhs_vpva for dates and locations.
Candlelight Vigil
October 30th
Join us for a candlelight vigil to shine a light on survivors of domestic violence.  This collective healing event will honor those who have experienced abusive relationships, share messages of support and hope, and explore ways that allies and loved ones can work together to create a safe community.