Countdown to Domestic Violence Awareness Month
Domestic Violence Awareness Month 2021
October is nationally recognized as Domestic Violence Awareness Month, a time when we ask everyone within the RBHS community to get involved by honoring survivors, speaking up against violence and harassing behaviors, and promoting healthy relationships. Turn The Campus Purple is the university-wide initiative to bring attention to Domestic Violence Awareness Month, encouraging members of the community to wear purple or use purple disposables within their work sites during the month to support a violence-free environment. Visit this page for updates and follow our Instagram & Twitter @RBHS_VPVA to check out all of our community participation!
#RBHSDVAM
Click around our Virtual DVAM room to find ways to participate this month and highlights from our office!
Silent Witness
Look for the posters with a Silent Witness scenario on campus. On our social media every Friday in October, we will feature a scenario of these silent witnesses who saw an unsafe situation and had to make a decision on what to do. Students have the opportunity to respond with thoughts on how you could intervene to be a supportive bystander instead. Each answer you give gets you entered into a raffle for a prize!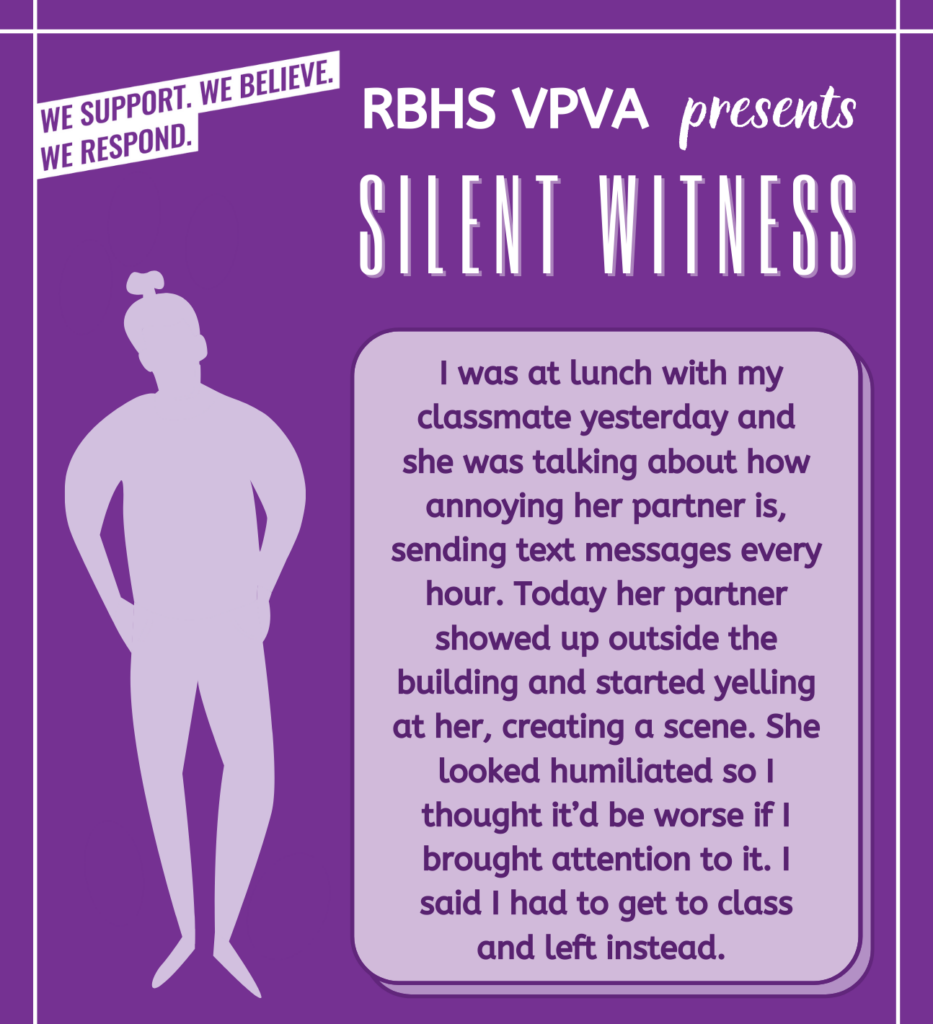 Survivor Love Letter
This initiative is a call to action for RBHS students to show survivors of violence that they are supported, believed, and loved.  Students can write supportive messaging and design their own artwork for those that have experienced violence. Look for the mailboxes around campus, or submit a letter virtually. We'll share our submissions at the end of the month!
Turn The Campus Purple
Purple is nationally recognized as the awareness color for Domestic Violence Awareness Month. Turn the Campus Purple is the university-wide campaign from October 11-15 encouraging members of the community to show off their purple and raise awareness of all forms of domestic violence. Participate by turning your social presence purple, sharing your favorite purple items, and adding purple to your email signatures or Zoom backgrounds! On Wednesday, October 13 each Rutgers campus will join together to Put On Our Purple, honoring survivors by wearing purple clothing or ribbons.