Countdown to DV Convo Series
Domestic Violence Awareness Month 2022
October is nationally recognized as Domestic Violence Awareness Month, a time when we ask everyone within the RBHS community to get involved by honoring survivors, speaking up against violence and harassing behaviors, and promoting healthy relationships. Turn The Campus Purple is the university-wide initiative to bring attention to Domestic Violence Awareness Month, encouraging members of the community to wear purple or use purple disposables within their work sites during the month to support a violence-free environment. Visit this page for updates and follow our Instagram & Twitter @RBHS_VPVA to check out all of our community participation!
#RBHSDVAM
Turn The Campus Purple
Throughout October
Purple is nationally recognized as the awareness color for Domestic Violence Awareness Month. Turn the Campus Purple is a university-wide campaign encouraging community members to show off their purple and raise awareness of all forms of domestic violence. Participate by turning your social presence purple, sharing your favorite purple items, and adding purple to your email signatures or Zoom backgrounds!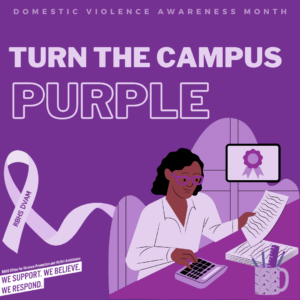 Tie-Dye Your Purple
October 4 (Piscataway) & 11 (Newark)
Tie-Dye Your Purple is a way for the RBHS community to raise awareness about domestic violence by joining us at one of our Tie-Dye events and creating your own purple shirt or grabbing a tie-dye kit to do at home! Wear and share on Health Cares About DV Day!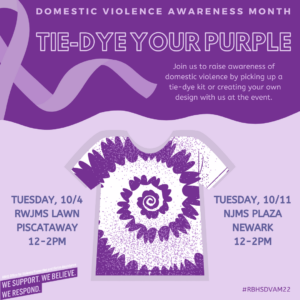 Health Cares About DV Day
Wednesday, October 12
Health Cares About DV Day is a nationally celebrated initiative that asks those in health sciences to show support for domestic violence survivors. On Wednesday, October 12, we ask you to Put On Your Purple! Wear purple accessories, put on purple scrubs, grab one of our purple ribbons, or show off your purple VPVA shirts to honor survivors. Share your submissions with us here.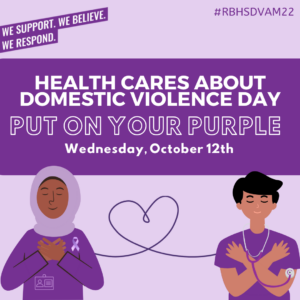 Domestic Violence Conversation Series
October 13, 20, & 26
Throughout the month, VPVA will host events alongside key campus and community members to engage in conversations around the impact of domestic violence and how we can do something to change it. This year, our series focuses on the connection between gun violence and domestic violence; the ways you can intervene as a bystander when you witness abusive relationship behaviors; and the impact of domestic violence in the disabled community. Click here to register for any or all 3 events.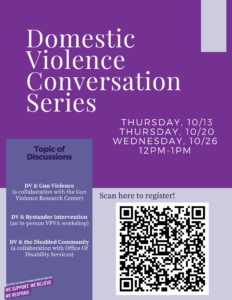 Survivor Love Letter
Throughout October
This initiative is a call to action for RBHS students to show survivors of violence that they are supported, believed, and loved.  Students can write supportive messaging and design their own artwork for those that have experienced violence. Look for the mailboxes around campus or at our tabling events. We'll share our submissions at the end of the month!